**GIVEAWAY NOW CLOSED**
In appreciation for reaching over 50 followers (!), I'm having a little giveaway for this charm pack of Moda's Get a Clue with Nancy Drew fabric. You can see all the fabrics in the pack
here
. I love the book print most of all!
And I broke out my Heather Ross Spoonflower fabrics to make a little earbud/coin case to accompany Miss Nancy Drew. I hope you like it!
This giveaway is open to followers, old and new. I am so appreciative of you all stopping by and reading, it is so wonderful to be able to share my crafty obsessions with you. My husband tries to be supportive and appreciative, but he still refers to knitting stitches as "knots" - I know I can count on you guys to speak my language!!
To enter, leave a comment to let me know that you are a follower - just one comment per person please. That's it. Please make sure I can contact you if you win - if you're a no-reply blogger please leave your email in the comment -- eg., nancydrew (at) email (dot) com. International entries are welcome, giveaway closes at 9pm PST on Tuesday November 13.
Thanks again! I will announce a winner on Wednesday November 14.
Other than that, so far this week I just did a little blog revamping ... it's a work in progress, but it does feel like there's a little more room to breathe now. If you take a peek at the top of the page you'll see I added a tab for patterns and tutorials. You can find my Tea Squared Tea Cozy tutorial, and I just uploaded the shark pattern for those people who mentioned that they might like it. I hope to add to that section in the near future.
In other news, here are the latest bloggers in the
Let's Get Acquainted blog hop
:
Nov 1
Kelly at
Live. Love. Create
Wendi at
Bethadee Zoo
And there is a new blog hop for Canadian bloggers,
Blogathon Canada
, from Sew Sisters. Check it out!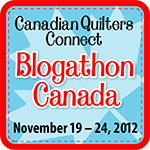 Thanks for visiting, y'all, and don't forget to enter the giveaway!